Project Scope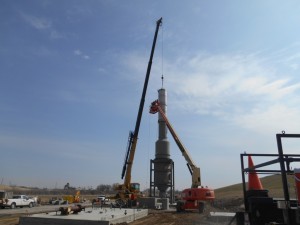 Venture Engineering & Construction was contracted as Owner's Engineer to provide process design and installation engineering, and procurement services for a 3,500 SCFM LFG to High BTU upgrade facility using membrane technology for CO2 rejection, and PSA technology for N2/O2 rejection. One hundred percent of the product gas is wheeled to California as part of the customer's client's green energy portfolio.
Services Provided
Initially, Venture performed the process design tasks including the detailed HVAC design, roof chiller design, process modeling, development of PFD's, P&ID's, and has conducted a HAZOP study with the client and the major equipment vendors. Then Venture developed the detail design and installation drawing packages that were used in the contract bidding phase. Construction began in August 2013, using final construction drawing package developed by Venture.
In addition, Venture provided construction engineering support and participated in the commissioning of the facility following the construction phase.
Process Modeling
Process Flow Diagrams (PFD's)
Piping and Instrument Drawings (P&ID's)
Instrument Data Sheets
Equipment Specification development
Equipment Submittal Review
Equipment Selection
Detail Design

General Arrangement
Piping
HVAC, Roof Chiller Design
Civil
Structural
 Electrical
Instrumentation & Controls

Construction Engineering Support

Contractor Submittal Review
RFI Support

Commissioning services

Personnel training
Start up services
Construction Management  services