As a full service consulting EPCM firm, that also provides custom-engineered specialty equipment; Innovation must be our priority. To accomplish this we need to focus on not only new ideas for processes and products, but also the speed at which they can be created and the simplicity of their creation.
Process Design
Venture's design groups provide services for industrial plant projects, with a key focus in the energy, chemical, power, steel, and general manufacturing markets. Our designers use intelligent 3D programs to support new site developments and/or expansions to existing facilities. This benefits Venture's clients in a number of ways.
3D models can be used as a meeting ground for collaboration of ideas before detailed engineering is started. These models help to clarify client ideas, and they help Venture to explain how we complete project requests. In addition, 3D models aid in relaying detailed, technical information to plant operations and maintenance personnel.
The 3D programs we use are faster and more accurate at producing and printing line lists, valve lists, and instrument lists. They can also create Isometric drawings much faster. This expedites the back checking process, and the result is a significant time savings.
Ultimately, the intelligent programs we use are more accurate. All of our 3D programs have clash detection that verifies all items used between the actual drawing of a process plant and the 3D model. For example, all valves listed in a P&ID are linked with the 3D model and verified that they exist in both documents, in the correct quantities, and proper description. Again this results in a significant time and cost savings.
Aside from working on design projects in 3D, Venture uses these programs for our products, or equipment business as well.
Products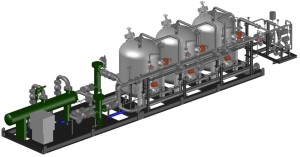 All of our equipment is considered specialty, in that we engineer and design each unique product for each individual client. 3D design allows us to create a visual model that can easily communicate how our equipment works. These 3D models also reduce manufacturing and build costs, and improve product quality and reliability.
When looking at speed of service, 3D designs are much faster and make the overall process of designing equipment easier. Our designers are able to not only generate a 3D model of our equipment, but they can easily make additions and revisions such as adding or removing cable, wire, conduit, piping and much more.
This intelligent technology allows us to provide time and cost efficient products and design projects for our industrial clients.