About Us
Venture Engineering Company and Team
Executive
Department Management
Project Managers
About Us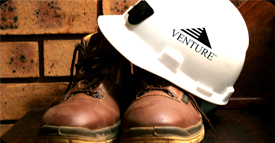 Venture Engineering & Construction is a closely held, multi-disciplinary engineering and construction management company based in Pittsburgh.
Venture Engineering and Construction was created in response to the need for:
A process focused organization to serve industries such as green fuels, water/wastewater, energy, and consumer product / healthcare.
Services complementary to process engineering, estimating, design, construction management, and commissioning.
An organization that is adaptable to its clients' internal capabilities with minimal constraints.
Venture is a leader in alternative energy solutions such as landfill gas plants, cogeneration facilities and waste-to-energy plants.
Since the inception of Venture, we have added key staff in Pittsburgh and acquired our Las Vegas office to serve the commercial/institutional sector. Areas of focus in Las Vegas include MEP engineering, green design and related services.