Capabilities Menu
Construction Management
Venture provides clients professional construction management services as Owner's Agent.
The preferred approach is the open-book approach designed to ensure the least-cost alternative for the client while maintaining single-point project responsibility of a traditional EPC.
Services
Project Management
Construction Management
EPCM
Construction Support Services (CSS)
Capital Cost Estimates
Procurement / Expediting
Scheduling
Planning
Documents Control
Change Order Processing
Scope and Estimate Studies for FEL and CEP Processes
Issue Tracking and Resolution
Project Close Out
Inspection
Commissioning
Record Drawing
Our services are used by
Design customers requiring continuity in their design projects from inception to close out (cradle to grave)

Process/Manufacturing
Process/Energy
Process/Environmental Customers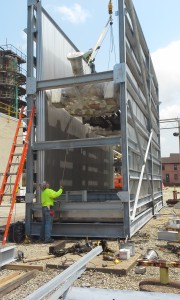 Samples of Portfolio Projects
Constructability reviews for two sewage treatment plant designs
CM for the completion of a multiple effect evaporation system under a fast track schedule. Services were expanded to include commissioning and some design.
Damage assessment, scoping, on-site engineering, procurement and reconstruction of a fire damaged landfill gas plant. Total outage was four months. Read more about it here.
Full EPCM for the gutting and rebuilding of a mothballed multiple effect evaporation/crystallization facility, with associated modifications to utilities and receiving/pre-treatment facilities. Additional services include commissioning and ongoing support for startup and run-in.
Managed multiple capital projects from inception through construction to close out. Venture developed the scope of work and work breakdown structure detailing the tasks and deliverables and provided construction management services for:

Transloading Facility
Railroad Upgrade
Barge Unloader Pier
Cascade Cooler Installation

Design and then site supervision of debottlenecking of a landfill gas processing plant, involving reconfiguration of equipment and piping.
Commissioning of 2.8 megawatt biogas to electricity plant.