Venture Engineering & Construction serves the LMOP audience in many ways. Venture began in Pittsburgh in 2007 to provide high-value consultancy, engineering, and project management services. During the early days, Venture offered solutions to customers in the process engineering field. As Venture grew, its capabilities grew. Today, Venture provides services to the energy, industrial, commercial and institutional markets via its headquarters in Pittsburgh and its satellite office in Las Vegas. Venture has always offered design, maintenance, and emergency services to landfill gas to energy facilities, but now Venture offers a product line to these facilities.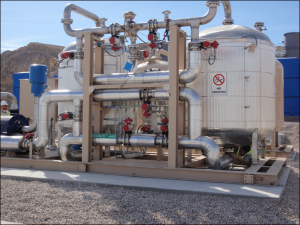 Venture Engineering's product, the Gas Conditioning System, removes siloxanes and other harmful contaminants from landfill gas used to power engines and turbines at landfill gas to energy facilities. These compounds cause expensive repairs and lower quality gas output. Venture's system proves efficient and cost effective for large and small scale plants. The difference between Venture and its competitors is, not only ROI, but customer service. Venture is, and always will be, an engineering company first. Product support for the Gas Conditioning System is provided by the same engineering team who worked with your system from design through commissioning. You can view our informational video here.
To read about Venture's experience in the landfill gas to energy arena, from full plant design to system modifications, click here. For more information about our Gas Conditioning System, click here. You can also view a detailed website geared specifically to Venture's Gas Conditioning System here.
As always, Venture Engineering & Construction's business development team is on-hand to discuss your needs.
Kyle Snyder
Vice President Business Development
(412) 231-5890 x308
KSnyder@VentureEngr.com
Bill Slatosky Jr.
Business Development Manager
(412) 231-5890 x370
BSSlatosky@VentureEngr.com